Ogdensburg Power Plant
The Ogdensburg Power Plant is located in the City of Ogdensburg, St. Lawrence County, New York State. Originally built in 1994 as a combined cycle / cogeneration facility, Alliance is currently conducting technical and engineering feasibility studies for conversion of this facility to utilize renewable biofuel to produce electricity and steam.
Steam provided from the project is used to supply the nearby NYS St. Lawrence Psychiatric Center and the abutting NYS Ogdensburg Correctional Facility through a centralized climate control services loop which operates throughout the 25+ acre campus. When supplied by the cogeneration process, steam produced in this manner is much more efficient than by using conventional boilers.
In 2006, Alliance selected the Ogdensburg Power Plant to participate in a trial program to study the viability of using biodiesel, a 100% renewable energy biofuel, to produce electricity and steam. In fact, as a result of this testing, Alliance became the first commercial boiler operator in New York State to use biodiesel in one of its power plants. During the test, Alliance utilized 250,000 gallons of biodiesel in one of its operating units – the largest amount of biofuel consumed in a fossil fuel generating plant in the United States.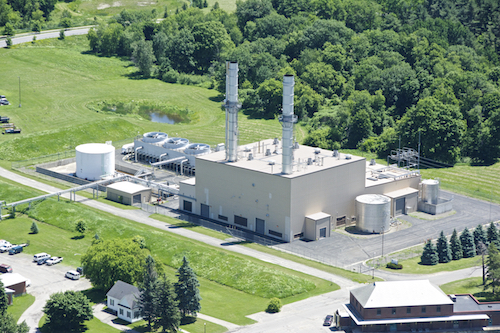 KEY FACTS
 Alliance Energy New York, LLC
Formerly 2+1 Combined-Cycle, currently being repowered to fire biomass fuel (woody feedstock)